The Hardrock Hundred Mile Endurance Run is an ultramarathon 100.5 miles (161.7 km) in length, with 33,000 feet (10,000 m) of climb at an average elevation of over 11,000 feet (3,400 m). The race is held on a loop course on 4WD roads, dirt trails, and cross country in Southern Colorado's San Juan Range, USA.
The run starts and ends in Silverton, Colorado and travels through the towns of Telluride, Ouray, and the ghost town of Sherman, crossing thirteen major passes in the 12,000' to 13,000' range. Entrants must travel above 12,000 feet (3,700 m) of elevation a total of 13 times, with the highest point on the course being the 14,048' summit of Handies Peak. The race has been held in early July of each year beginning in 1992, except for 1995 (too much snow) and 2002 (nearby forest fires).
Each year's race is run in the opposite direction of the previous year's event (2008 was run in the clockwise direction, 2009 was counter-clockwise). In order to complete the event, instead of crossing a finish line, runners are required to "kiss the Hardrock", a picture of a ram's head painted on a large block of stone mining debris. The cut-off time for finishing the race is 48 hours.
Current fast performances are held by Kilian Jornet -22:41:35, set in 2014 and Diana Finkel - 27:18, set in 2009.
Interview with Dale Garland run director of Hardrock Hundred Mile Endurance Run.
Official site - http://hardrock100.com/
Interviewed by Dima Feinhaus. English text - Aleksei Pokrevskiy.

TRAIL-RUN: We're talking with Dale who is the race director of Hardrock, so Dale please introduce yourself!
DALE: Sure. My name is Dale Garland, I'am the run director for the Hardrock 100 Endurance Run. This is my 27th year of directing the Hardrock.
TRAIL-RUN: Whose idea was it to run 100 miles in Rocky Mountains and why do we run in both directions?
DALE: The idea of Hardrock came from a gentlemen by the name of Gordon Hardman who is actually running this year. It was his idea to link 4 historical mining towns in Southwest Colorado - Ouray, Telluride, Silverton and Lake City through a 100 mile run through the trails and mountains of those 4 communities to celebrate the life and legacy of the hardrock miners. The reason that we run both directions… when we first put Hardrock together we thought that every year it would start and finish in a different town so people would be able to see the different parts of the course in different times but the only town that really wanted to work with us when we first started was Silverton. So we that's how we came around the idea of one year running clockwise and another year - running counterclockwise.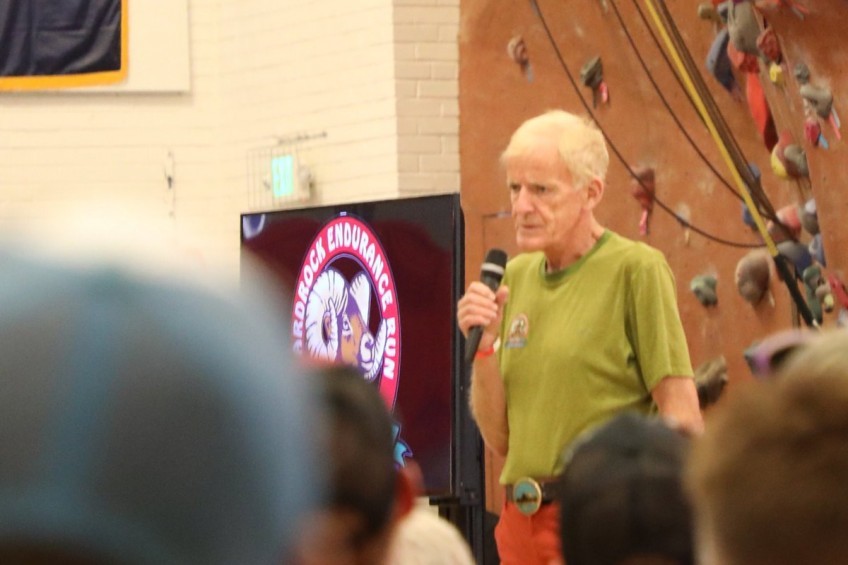 Gordon Hardman. Фото iRunFar.

TRAIL-RUN: And who designed the course?
DALE: The course was designed by a gentleman by the name of John Kappas with some help of Charlie Thorn and Rick Trujillo. John had grown up in Telluride, Rick had grown up in Ouray. Those three really put the course together.
TRAIL-RUN: You call yourself a run director and you often call the event run rather than race, why?
DALE: It's a semantic thing, it's a very deliberate differentiation and the main reason is that we want to emphasize that really this is a run against the mountains, it's a run against mother nature, and it's not really a race among people. Although some people like to race it and certainly within our sport people want to see how fast they will go, but that's never been one of our top priorities. And so we've tried to downplay that and just focus on the accomplishment of running and completing the course for all people.
TRAIL-RUN: Where tradition to kiss a stone with a mountain goat came from?
DALE: This tradition exists in this form about ten years. It started when i put a stone in place of the finish line. A finisher had to touch the stone. With time, that stone grew up, got a picture on it and touching become a kiss. After one of the runners finished totally alone and nobody met him at the finish, we got another tradition. I personally meet all the finishers.
TRAIL-RUN: Now a few controversial questions: the lottery and its pretty convoluted rules are often argued about, it's often a source of contention; then, recently there was an issue raised about female participation and how these rules affect lower female participation. What's your take on it?
DALE: Last year we had 2,200 people apply for our race and we don't have a permit to accommodate so many. So the question really becomes how can we allow new people to come in to experience Hardrock versus how do we allow people to come back here after a year. Our board of directors devised our lottery so that we can try to have a balance of both new people coming in as well as people returning. Is it perfect? No, and we're re-evaluated every year in terms of the numbers and we try to make the numbers match up relative to who's actually applying.
The women thing is complicated and it's something that we as a sport are dealing with and this year the low number was really a function of just not many women names drawn out of lottery.
TRAIL-RUN: What's your usual percentage of females?
DALE: This year we have a 133 men and 13 women last year we had 23 women so it varies between 15-25. When we do the analysis and we compare the number of women in the actual run itself versus how many women actually apply - it's pretty close. The real question is why aren't more women choosing to participate in the hundred mile run, and trying to get more women involved in the sport at all levels, so that when we have more women who apply to run.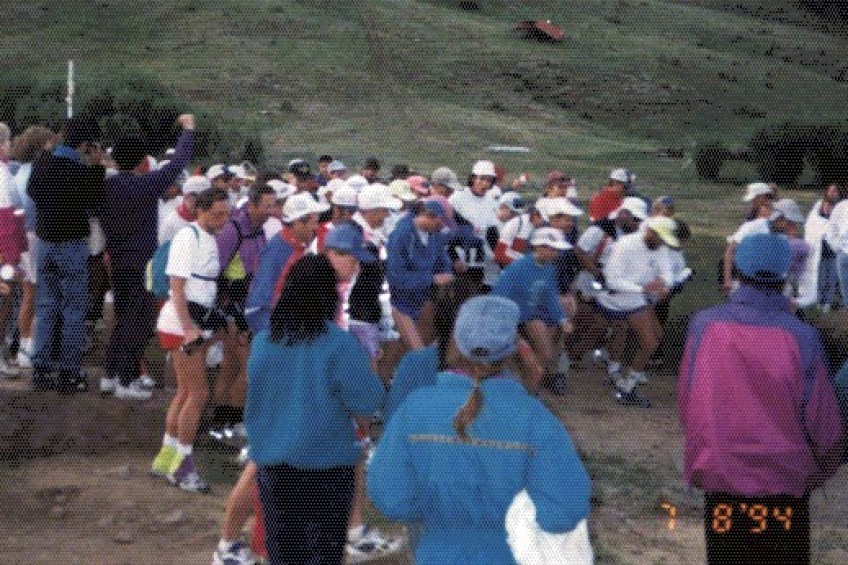 The start 1994. Photo Blake P. Wood.

TRAIL-RUN: I can add from my perspective that I know that in European races of a similar complexity females are usually about 10% of the field, which corresponds to yours this year so-called "low" percentage. So 23 would be a pretty high number for that kind of race.
The lottery, besides placing limits on the race, also limits the participation of elite runners and thus, limits the entertainment value of the event. For instance Francois d'Haene who is one of the top French runners couldn't make it this year. Does it concerns you and what's your take on the size. Can it be bigger?
DALE: Legally we can increase by just a little bit. We have a permit with our government, the Bureau of Land Management and the US Forest Service for how many people we can allow into Hardrock and we're below that by a few. But the other thing is Silverton is a very small community, Ouray is a very small community where there's a lot of issues with parking and stuff like that. So if we wanted to increase the size or numbers we have to decrease something else - crew experience, pacer experience, things like that.
There's only so many seats at the awards ceremony in Silverton because of the size of the gym. The competitive thing is something that we are struggling with to be honest. When we first put Hardrock together we never intended it to be a battle of elite runners. It's turned out to be that, and it's kind of nice, and I would like to maybe have a year where we throw the top 20 or 25 people into Hardrock and see what happens. It'd be a very interesting thing so I'm not saying that it won't happen. It's just that it's not part of our overall philosophy and our overall reason for us having Hardrock to begin with.
TRAIL-RUN: Last year you got into an argument with International Trail Running Association (ITRA) which is loosely affiliated with UTMB, you even published an open letter on the subject. Would you tell us what was the nature of the disagreement?

DALE: The conflict that we had with ITRA, which is a for-profit company that makes money doing this, is that we just didn't feel that we wanted to pay ITRA money to get points from ITRA. It was kind of a philosophical thing, we have really no reason to compete with them, we're not a for-profit company, we're not trying to make money doing this. It was really more of a philosophical difference with ITRA in terms of should we or should we not pay to become part of their profit-making motive.

TRAIL-RUN: Was this conflict resolved?
DALE: It's loosely resolved, I think if I went to UTMB I'd probably have some people who are still mad at me, but in my mind and in our board of directors mind and our organizers it's resolved. We don't have any hard feelings towards ITRA or UTMB. They're doing what they're doing, we just choose not to participate and be a part of that.
Video by Matt Trappe.

TRAIL-RUN: OK, so now back to fun stuff. Could you please share the most memorable moments from 27 years of of the race?

DALE: Having been involved with it from the beginning I think I've had a chance to see a lot, and it's great, and I love it, and it's always it's part of my summer. It's something I always look forward to. When I think of memorable times, most of them have been around the finish. For example, about three years ago we had one of our finishers (Bogie Dumitrescu) finish with one second left to spare, and just to see that stands as one of the most emotional things I've ever seen in Hardrock history.
That was one. I think I never thought that we would have somebody finish twenty years of Hardrock and so when Kirk Apt had his 20th finish that was pretty special because that represents quite an an athletic achievement to do this course for 20 years and finish 20 times, that's phenomenal.

TRAIL-RUN: Anything funny or ridiculous on the course?

DALE: I hear stories all the times of people who are seeing animals that aren't there or crawling over logs and taking hours to do something that should take minutes. Nothing really spectacularly funny comes to mind. Mostly I see more awe-inspiring things, I see more things that emotionally just blow me away than make me laugh.

TRAIL-RUN: OK, thank you very much.
DALE: You bet.